TCO Cheese Fest 2020
It's going down.
This year's Denver Grilled Cheese Fest was postponed due to COVID, but that doesn't mean you can't still indulge in cheesy goodness for a good cause.
Join us for The Corner Office Cheese Fest, in partnership with the Denver Grilled Cheese Fest and Imagination Library of Denver. TCO's 2019 People's Choice Award-Winning grilled cheese sandwich is on the special menu, available October 25 – November 25 during brunch and dinner.
$1 from the sale of each grilled cheese from the menu will be donated to Imagination Library, in lieu of the original Denver Grilled Cheese Fest which serves as their signature annual fundraiser.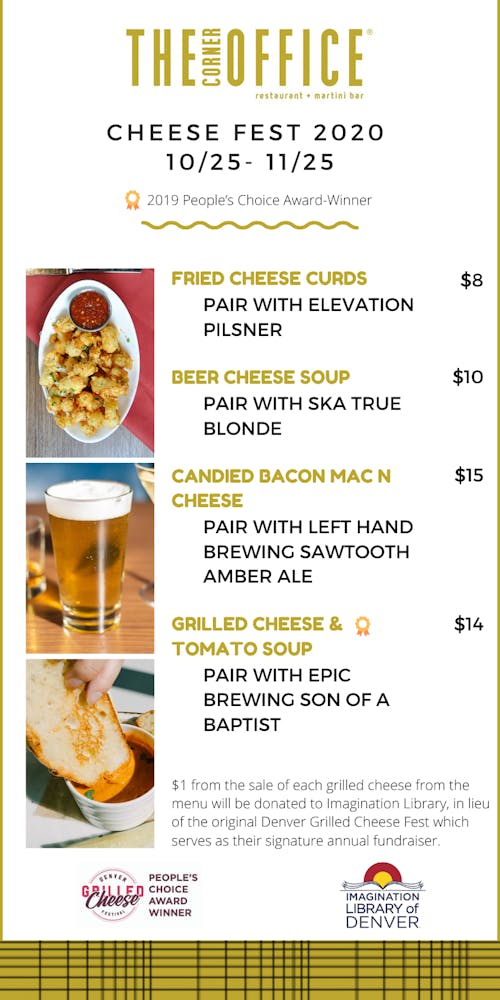 The Imagination Library of Denver is the local affiliate of Dolly Parton's Imagination Library, the largest book gifting program in the United States Imagination Library provides enrolled families with one brand-new, age-appropriate book every month from birth until a child's fifth birthday, helping to encourage a love of reading.
60% of Colorado 4th graders aren't reading proficiently. The single most significant factor influencing a child's early educational success is an early introduction to books and being read to at home before starting kindergarten. Since launching in 2015, Imagination Library Denver has mailed more than 32,000 books and served more than 2,000 families.
Give Me the Cheese